News From 2016
Man Hooks 112 pound Catfish
News • • • 12.12.2016
North Carolina man hooks massive 112-pound catfish while fishing. It was hook, line and sinker — literally — for a man who went out fishing over Thanksgiving...
Man Catches Horrid Fish, Documents Meals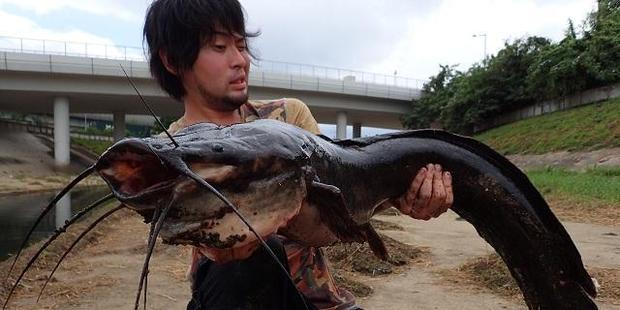 News • • • 29.04.2016
A popular food blogger, Hirasaka Hiroshi of 'Monsters Pro Shop', heard about large catfish living in a dirty Hong Kong river and decided to land one...
When I'm Not Fishing
News • • • 20.04.2016
Ever since the previous fish busted my anti-reverse, I'm stuck with doing website enhancement. Gave it a beauty treatment and fixed how it is displayed on phones. Recommended phone browsers are
Dolphin
and
Opera.
For desktop and notebook, mainstream browsers will do nicely but I urge everyone to check out
Vivaldi.
This new browser is crafted for power users and those familiar with the original Opera will know what I mean.
Rare Albino Blue Marlin Caught And Released
News • • • 05.03.2016
The extremely rare catch of an albino blue marlin was made aboard the Spanish Fly, a 43-foot yacht that runs from Maverick Sportfishing out of Los Suenos, on the Central American...
Fisherman Catches 70kg Atlantic Halibut
News • • • 03.03.2016
An ice fisherman in the Saguenay region had the catch of a lifetime on Saturday when he reeled in a 70-kilogram Atlantic halibut. Charles Gagnon-Brassard went out for a typical day of...
What's New For 2016
News • • • 23.02.2016
Made some minor tweaks to the website. Watermark will be gradually removed from images to provide a more pleasant viewing experience. There is also a surge in daily visitors' number as well as stuffs being submitted. I'll upload them as soon as they're ready, probably by next week or two. Remember to tune in & enjoy.